Uxor
Talk

0
1,271pages on
this wiki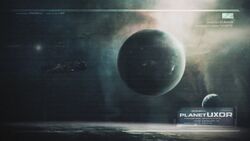 Uxor was a planet governed by EarthGov and the location of Marker Shroud 4.[1]
Necromorph outbreak
Edit
An attack on a facility on Uxor destroyed the surrounding structure, which exposed a Red Marker. Moments later, the Red Marker activated and unleashed a surge of electromagnetic energy powerful enough to shut down the flight control system of a ship in orbit, which crashed near the residential district. A Necromorph outbreak ensued following the activation of the Marker and began attacking the survivors.
Known inhabitants
Edit
The planet has a mass of 5.9736x1024kg and a mean radius of 6,371km making it, oddly enough, a planet of the same size and mass as Earth.
↑

Glare, P. G. W. Oxford Latin Dictionary. 8th ed. New York: Oxford UP, (1982): 2123. Print.