MY DEAD SPACE 2 STORY:\
_______________PVT. DAKOTA MIRES _____________________________________________________
_____________SPRAWL SECURITY GUARD, FORMER EARTH GOV SOLDIER____________________
__________________KIA:FALSE MIA:FALSE IA:TRUE_________________________________
_____________BIRTH: NOVEMBER 2ND *****_________________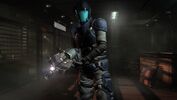 HAIR COLOR:BROWN
EYE COLOR: HAZEL
SKIN COLOR: WHITE
___________________________________________________________
Dakota mires was a ex-Earth gov army soldier, his rank was A Cpl.(Its not a marine, its basically a security guard but with urban camoflauge.) He served through no wars, but has dealt with severe riots, occasionaly ending in many civilian and soldier casualties. After his service, he enlisted as a Sprawl Security guard, and right now his age is 24.
THE STORY BEGINS
When Dakota awakened from his short sleep, the day before Isaac awakened. Right now Dakota is in the Government sector, and he woke up to many screams,growls and gunshots, possibly what woke him up. He put his Basic Security Rig on, and walked to the desk next to him and picked up his Pistol. When he exited his room, he saw an Infector turning dead Security Guard's into Slashers.(Oddly enough the Stasis Module didn't combine with the flesh.) Dakota said "What in the fu**?"
When the Slasher got up, and slowly walked toward Dakota, Dakota yelled "If you don't stop I WILL shoot you!" The Slasher started charging. Dakota punched the Slasher in the helmet, hurting his hand, while yelling: "One more step and I'm going to open fire!" The slasher's helmet fell off, revealing a bald skeleton-like face with a left empty eye socket where the infector stabbed the Guard. Dakota looked behind the slasher, seeing the infector infecting more dead security guards. The slasher yelled, also spitting out blood and revealing fang-like teeth. Dakota shot the slasher in the head, blowing it to pieces. The slasher tried to feel what happened to his head, while Dakota hollered: "HOLY SH**, JUST DIE, DAMMIT!" The slasher all of a sudden started to swing his blade like arms in an attempt to stab Dakota.
When the slasher swung his arms the 2nd time, Dakota grabbed it and slammed the slashers wrist on his knees, making the blades bend toward the slasher, and when it swung after that, it stabbed its other arm, and when trying to pull the blade out of the other arm, the Slasher accidently tears it off, making the slasher fall down and roll side to side, spraying blood on the floor.
Unfortunatley, Dakotas Basic Security RIG didn't have kinesis.(His RIG is the picture above, it's not the one you can get in the game.) So, he shot the blade off the Slasher, and took that and threw it at the other slasher. He repeated this until all of the slashers were dead. Dakota knew he was missing something. A vent in front of him broke, and an infector jumped out.
The Infector jumped on Dakota, and nearly missing his head, Dakota punched the infector with his Pistol, and it ripped of the Infectors Proboscis. The infector fell down and scurried away.
Dakota checked his Locater. It led him to an elevator, when Dakota pressed the button to activate the elevator, a
Exploder
jumped out of an vent, breaking it. Dakota whispered: "Come on, come on, come on, Come on!" The Exploder looked at Dakota, it started walking towards him, mumbling. When the Exploder was about 8 feet away from him, the elevator opened. Dakota ran into the elevator, pressing the button. The Exploder Swung his Explosive arm at Dakota, only to have it cut off when the door closed. Dakota's RIG was a yellowish-green. Dakota said: "That was close! Way too fu**ing close!".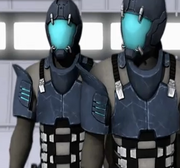 A message from Tiedeman appeared, saying:
"All security personel report to government sector. You will receive you're orders when you arrive, and you're new squad will be assigned, due to more than 4,000 Security Guards being MIA or KIA. We have about 8,000 Security guards that are here, and we are expecting almost 6,000 to be alive. Security Cheif Director Tiedeman out. Evacutations will commence tommorrow. Any Stray Security Guards not here will be announced MIA and when found, put back Into action ASAP."
Dakota said "Sh**." . Dakota stopped the elevator, and pressed the 4th to last button that said Government Sector. It took about 5 minutes for the elevator to finally stop and open. A laser was pointed at him. A Security Guard said: "State you're name and rank, soldier!" Dakota answered: "Private Dakota Mires."
"Okay, you're good." Dakota walked to the security guard. "Hey, you don't have a Pulse Rifle or Med pack." The Security guard said that while opening up a locker and tossing a 2 Medium Med packs, and 2 Small med packs with a pulse rifle with 300 rounds. "I'm Hunter. Seargent Hunter Derrick." The Security Guard said.
"You already know my name." Dakota said.Hunter said: "We need a new squad member. You probably heard the transmisson
Director Tiedemann
sent to all Security personel. "I did." Dakota answered. "Well then... Welcome to Squad Gamma 71D." Hunter said. Hunter opened up a door and 2 other Security Guards were standing and looked like waiting. "Meet Cpl. Steven Maggi. Don't make fun of his last name, and we just call him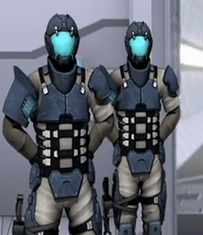 Steve. And here is Pvt. James Pendergraft. He's a redneck... So...Uh...Yeah..." Hunter said. Steve said "Hello!". And James said "Wassup, yo?" They both had Pulse rifles. A transmission was sent to Hunter. "We have a special mission for you're squad and Delta 549R." Tiedemann said. "What is it sir?" Hunter asked. "Heh, thats exactly what LT. Green said over at Delta549R! But you are ordered to investigate the Ship that is about to dock. It seems to be a planet cracker, and it also seems
CEC Engineer Isaac Clarke
, who Im sure you know who he is, has been there before. And when you return, Evacuations for Civilians will already be commencing, which is a 3-day operation. We have a Killsquad of 3 sent to terminate the key patients who have come in contact with the
Classified Artifact
. The info of this Artifact is restricted to High ranking security personel."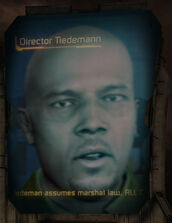 Tiedeman said. "Uhh, yes sir. Is this ship docked already?" Hunter asked. Tiedemann nodded and then saying: "And I hope you're squad is full now?" "Yes sir. Private Dakota Mires filled the slot." Hunter said. "Great. Tiedemann out" Tiedeman responded.
James told everybody: "Dayum! That sh** was a LOOONG talk,y'all!" "Uhh... Okay..." Dakota said. The squad went into a large elevator, and Hunter pressed a button that said: DOCKING BAY LVL.3. About after 10 minutes the door opened. Dakota said: "Finally." Hunter was leading, while Steve was behind Hunter, then James, then Dakota. "Alright people, the Ship is behind this door." The door was locked. "Dammit! Alright guys, Ill hack our way through this!" Steven said. He walked around and found a panel. Then he ripped it off and started moving wires around. "Steve! Behind yo ass!" James yelled! A Stalker slid from behind a crate.Hunter yelled: "Shoot,dammit,Shoot it!" Dakota shot the charging Stalker with exactly 27 bullets. "Hey Dakota, aim for the limbs next time, don't just shoot in the stomach, and NEVER shoot in the head, it just pisses them off more." Hunter told Dakota. Steven thanked Dakota. "No problem,man." Dakota said. A beeping sound came from Stevens way. "Got it! Let's go!" Steven yelled. The whole squad piled into the ship.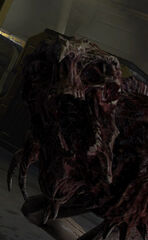 "Hmm...
USG Ishumura
...This was the first planet cracker,man." James said."I'm not sure if that's a lot of helpful info..." Hunter added. "Well, I think it means there would be more people, OR less, since its going to be decommisioned soon." Dakota corrected. A barrel rolled in front of the squad. "This isn't good. Not at all." Steven commented. Alright guys, split up, 2 teams, me and Steven take the route to the Control deck, Dakota and James take the right route to the med bay. We all meet up at the control deck in 2 hours." Hunter commanded. "Yes sir!" Dakota said.
Dakota and James walked down a hallway. Then James opened a door. "I'm not a fan of decontamination rooms." James said. "Me too." Commented Dakota. They went into the decontamination room, and then a speaker said: "Decontamination in progress." "Aww man." Dakota said. "I know, dude." James said. A Pack started to bang on the windows. "What the hell?" Dakota said. "Oh no...Kids...They act like animal packs. If they break the window expect ALOT more." James said. "Thanks for the info." Dakota responded.
NOT DONE WITH THIS STORY YET!