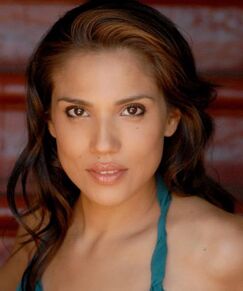 Tonantzin Carmelo is a Native American actress who provides the voice and likeness for Kendra Daniels in Dead Space.
Biography
Edit
Tonantzin (pronounced toh nahn tseen) Carmelo is an award winning, multifaceted actress of the stage, screen, and new media. She began her career as a native dancer and musician; her maternal native ancestry coming from the original people of Southern California (Tongva and Kumeyaay) and her musical gifts come from her father, who is a professional Latin musician.
As an actress she is best known for her leading roles as Thunder Heart Woman in the Emmy-winning Steven Spielberg miniseries Into the West, Kendra Daniels in the best-selling EA Video Game Dead Space, and Shayla Stonefeather in the critically acclaimed Chris Eyre feature film Imprint. Some of her other big screen credits include starring roles in the feature films Unearthed, Shadowheart, and King Rikki.
External links
Edit
Ad blocker interference detected!
Wikia is a free-to-use site that makes money from advertising. We have a modified experience for viewers using ad blockers

Wikia is not accessible if you've made further modifications. Remove the custom ad blocker rule(s) and the page will load as expected.