Titan Station Church of Unitology
Talk

0
1,271pages on
this wiki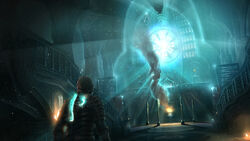 The Titan Station Church of Unitology is a chapel devoted to Unitology located on the Sprawl. It is infested with Necromorphs and is one of the places Isaac is forced to go through to reach Daina. A female Tripod is encountered here.
Many devoted Unitologists were worshiping there at the time of the outbreak, whilst the others committed suicide and were subsequently turned into Necromorphs.
This is the first area were Stalkers are encountered.
A Conduit room can be found here, in the funeary wing after the Stalker attack.