| | | |
| --- | --- | --- |
| " | Shooting them in the body didn't seem to work. Go for the limbs, dismember them. That should do the job. | " |
This article (Timeline), or a section of this article, does not meet wiki standards. Please repair this article so that it meets our standard.
---
A timeline is a chronological list of events that occur within a certain period of time or century. In regards to Dead Space Franchise and the Real-World, several events within the given universe occur and give credence to the primary events that transpire in the primary Dead Space games. The following page serves as both a general order of events and a disambiguation page for all events relating to Dead Space. As with all transmedia, conflicts and discrepancies in the canon may arise as a result of developer oversight.
Chronology
Edit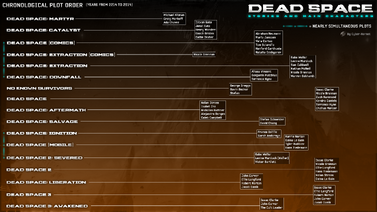 65 million years ago
A meteorite from somewhere in space hits Earth, killing Dinosaurs and almost everything on the planet.
The Black Marker is exposed from the meteorite and is now resting in the depths of the Gulf Coast of Mexico.
Two million[1] years ago

Alien inhabitants of Tau Volantis discover a Black Marker[2].
Aliens build Red Markers across the planet's surface in hopes of harboring more energy for their uses[2].
The Black Marker triggers a Convergence Event, creating a Brother Moon[2].
Extinction of Tau Volantis Aliens
2045
New Horizons Lunar Colony is built on the Moon, and an EarthGov Colony [3].

2214

Earth Government discovers and seizes an alien artifact on the Yucatán peninsula in Mexico Headed by Michael Altman[4].
The Entire excavation team is driven mad by the power of the Black Marker (Except Altman).
People are driven mad by the Marker, and worship it and Altman.
Michael Altman reveals the existence of the Black Marker to the public.[5][6][4]
Michael Altman Destroys the Marker.

March 15, 2215

Michael Altman is killed by EarthGov agents enthralled by the marker.
Altman's Death is used as martyrdom. Thus the birth of the Church of Unitology. [5]
Unitology becomes a global religion, then interstellar religion as its membership spreads to off-world colonies. [5]
Riots break out in reaction to Altman's death; the government is unable to successfully quell the rioters.[5]
2314 - Earth Government
2314 – Sovereign Colonies

June 18, 2314
2446

The USG Ishimura is launched.[22]
The Resource Wars begin.
2463

Zach Hammond is born.

June 5, 2465

Isaac Clarke is born.

2476

Kendra Daniels is born.

April 21, 2477

John Carver is born.

2499

Wanat Disaster: three supply ships, one planet-cracker, and a CEC colony are lost to gravity tether failure.[24]

2505-2506

The CEC illegally enters the Aegis Cluster.

CEC prospectors scan various planets; Aegis VII is shown to have extremely valuable mineral deposits.
The CEC constructs a colony on Aegis VII.
2507

CEC personnel begin preparing Aegis VII for planet crack.
4 weeks prior

Aegis VII Colony experiences increasing cases of insomnia and dementia.[6]

Aegis VII Colony Management refuses to take increasing violence seriously.
First insomnia-related homicide.[6]
2 weeks prior

The Red Marker is extracted from its amplification pedestal and brought inside the Aegis VII Colony.[26]

Dead Space: Extraction Begins.
1 week prior
2 days prior
All decks of the USG Ishimura are compromised; some sections remain isolated, however.
The majority of the ship's personnel are killed.
Unknown Year

The events of Dead Space: Salvage occur.

Magpies discover the derelict Ishimura.
Earth Government recovers the Ishimura.
Ad blocker interference detected!
Wikia is a free-to-use site that makes money from advertising. We have a modified experience for viewers using ad blockers

Wikia is not accessible if you've made further modifications. Remove the custom ad blocker rule(s) and the page will load as expected.