Tesla Enervator
Weapon Information

Manufacturer:

Tesla?

Model:

???

Type:

Focused Energy Device

Cost:

Free

Technical Specifications

Ammunition

Universal

Damage (DMG):

???

Ammo Capacity (CLP):

6

Rate of Fire (SPD):

???

Effective Range:

???

Weapon Parts

Upper Tool:

Tesla Core

Upper Tool Tip:

Enervator Tip

Lower Tool

None

Lower Tool Tip:

None

Frame:

 
"Not bad for two-hundred-year-old tech. I think I'll borrow it for a while."
Design Details
Edit
The Tesla Enervator is a focused energy tool.
Weapon Description
Edit
"Sovereign Colonies scientists developed the "Enervator" from an overdriven focus coil to "humanely" eliminate dangerous specimens. The Enervator delivers a precision blast causing instantaneous electrocution and molecular destabilization in the target. In test subjects, death was instantaneous."
The Tesla Enervator is one of two weapons to appear in Dead Space 3 that are part of a preorder bonus promotion, the other being the GameStop exclusive EG-900 SMG, but now can be bought on the Playstation Network store and the Xbox Market place for 1.99 each.
The Enervator will be the second purely electrical energy based weapon to appear in the Dead Space series, the first being the Arc Welder.
The Enervator, as well as the EG-900 SMG and the Witness the Truth and First Contact packs are now available under the Downloadable Content section in the Bench.
This weapon has a color scheme similar to a Nerf dart gun
Appearances
Edit
Official Trailer
Edit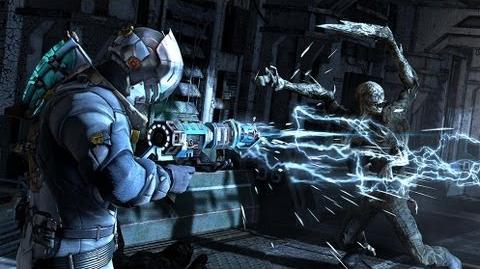 Ad blocker interference detected!
Wikia is a free-to-use site that makes money from advertising. We have a modified experience for viewers using ad blockers

Wikia is not accessible if you've made further modifications. Remove the custom ad blocker rule(s) and the page will load as expected.