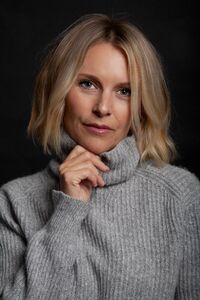 Tanya Clarke (born February 2, 1972) is an American actress who provides the voice and likeness for Nicole Brennan in Dead Space 2.
Biography
Edit
Tanya Clarke was born on February 2, 1972 in Chicago, Illinois. She was raised in Ottawa, Canada and is a recent resident of Los Angeles. She spent many years in New York City performing on Broadway, Off-Broadway, and regional stages. She received a Best Actress nomination (L.A. Methodfest) for her performance in the indie feature "Delivery Method" (New Haven Film Fest Grand Jury Prize). She plays Russell Crowe's wife in the soon to be released Lionsgate production of "Tenderness" and Mara's spun out mother in the upcoming feature "Day Zero" starring Elijah Wood.
External links
Edit
Ad blocker interference detected!
Wikia is a free-to-use site that makes money from advertising. We have a modified experience for viewers using ad blockers

Wikia is not accessible if you've made further modifications. Remove the custom ad blocker rule(s) and the page will load as expected.