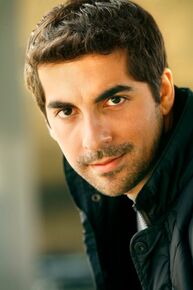 Sunil Malhotra (born October 20, 1975) is an American actor who portrays Omar Nayim in Dead Space: Aftermath.
Biography
Edit
Sunil Malhotra was born on October 20, 1975 in Skokie, Illinois.
Sunil Malhotra, Iyari Limon, Keith Szarabajka, and Malhotra's Dead Space: Aftermath co-star, Jesse Head, all appeared in ER.
In addition to ER, Malhotra and Head appeared in Cold Case.
Sonita Henry and Szarabajka also had roles in Cold Case.
Sunil, two of his Aftermath co-stars, Gwendoline Yeo and Ricardo Chavira, and Keith Szarabajka have all been in 24.
Sunil Malhotra, Gwendoline Yeo, and Kelly Hu all voiced characters in the animated film Green Lantern: Emerald Knights.
Malhotra and another Aftermath co-star, Kari Wahlgren, co-starred in the same episode of the animated series Kick Buttowski: Suburban Daredevil.
External Links
Edit
Ad blocker interference detected!
Wikia is a free-to-use site that makes money from advertising. We have a modified experience for viewers using ad blockers

Wikia is not accessible if you've made further modifications. Remove the custom ad blocker rule(s) and the page will load as expected.