Slam Chop
Weapon Information

Manufacturer:

Unknown

Model:

Unknown

Type:

Cost:

350 Tungsten,
1,400 Semiconductor,
2,550 Scrap Metal

Technical Specifications

Ammunition

Damage (DMG):

???

Reload Speed (RLD):

???

Ammo Capacity (CLP):

???

Rate of Fire (SPD):

???

Weapon Parts

Upper Tool:

Rip Core

Upper Tool Tip:

Default

Lower Tool

???

Lower Tool Tip:

Diffraction Torus

Frame:

Attachment 1:

???

Attachment 2:

Acid Bath

 
The Slam Chop is a weapon that appears in Dead Space 3. The weapon must be built at a Bench after finding the blueprint.
A co-op enhancing Ripper and Ground Diffactor that inflicts acid damage with each blast.
The blueprint for this weapon can be found during Chapter #.
Technical Specifications
Edit
Statistics
Edit
This section is still under-development. More information will be added soon.
Upper Tool
Edit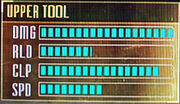 The upper tool of Slam Chop consists of a Rip Core with a Default tip. This produces a suspended Ripper.
Lower Tool
Edit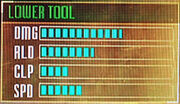 The lower tool of Slam Chop consists of a Plasma Core with a Diffraction Torus Tip. This produces a ground diffractor
This weapon can't be built or used in Classic mode.
Appearances
Edit
List of weapons, tools and abilities

All Games
Dead Space: Extraction only
Dead Space 2 only
Dead Space 3 only
Dead Space: Aftermath and Downfall only
Dead Space Mobile only
Other tools
Abilities
Ad blocker interference detected!
Wikia is a free-to-use site that makes money from advertising. We have a modified experience for viewers using ad blockers

Wikia is not accessible if you've made further modifications. Remove the custom ad blocker rule(s) and the page will load as expected.