N7 Suit
Talk

5
1,358pages on
this wiki

N7 Suit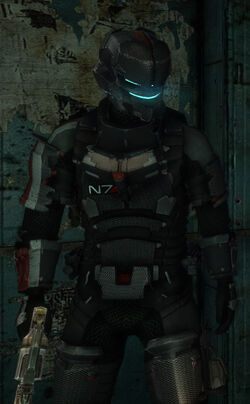 Production History
Specifications
[Source]

The N7 Suit is a Dead Space 3 downloadable RIG suit modeled after the N7 Armor of BioWare's Mass Effect franchise.
Description
Edit
The N7 Suit is modeled after the likeness of Commander Shepard's armor from the Mass Effect series. The suit is available to Dead Space 3 players with a Mass Effect 3 save file.[1]
Appearance
Edit
The N7 Suit is a reskin of the Security Suit introduced in Dead Space 2. There are two variations of the suit, one for Isaac Clarke and another for John Carver. Isaac's suit is dark grey, and features the N7 logo and red and white stripe on the right side of its chest and shoulder respectively. John Carver's suit also features the logo, but has a predominately red color scheme.
Aside from the new color scheme, the suit is unchanged shape-wise from its original Security Suit model, with a flexible health bar that runs down the spine as opposed to the shell-like pod featured on the new suits featured in Dead Space 3.
The description states that the armor is based off armor worn by "Shepard" in 21st century earth fiction, the suit was also distributed by a cosplay Intergalactic inc.
Displayed on the suit's hologram projector is the same display of Isaac and Nolan Stross present in all variations of the Security Suit from Dead Space 2. This is most likely due to the fact that the N7 Suit is another palette swap of the Security Suit.
References
Edit