Ad blocker interference detected!
Wikia is a free-to-use site that makes money from advertising. We have a modified experience for viewers using ad blockers

Wikia is not accessible if you've made further modifications. Remove the custom ad blocker rule(s) and the page will load as expected.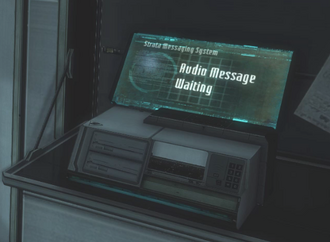 Logs are scattered throughout the game Dead Space 3 and are used to communicate objectives and provide background on the events that have unfolded on board the station. Some you may stumble on in your travels in the Flotilla and on Tau Volantis; others require you to search hidden areas in order to locate them.
The logs come in three different types:
List of Dead Space 3 Logs
Edit
Text LogsEdit
Chapter 1
Edit
Text LogsEdit
Audio LogsEdit
Chapter 2
Edit
Text LogsEdit
Audio LogsEdit
Chapter 3
Edit
Text LogsEdit
Chapter 4
Edit
Text LogsEdit
Audio LogsEdit
Chapter 5
Edit
Text LogsEdit
Audio LogsEdit
Chapter 6
Edit
Text LogsEdit
Audio LogsEdit
Chapter 8
Edit
Text LogsEdit
Audio LogsEdit
Chapter 9
Edit
Text LogsEdit
Audio LogsEdit
Chapter 10
Edit
Text LogsEdit
Audio LogsEdit
Chapter 11
Edit
Text LogsEdit
Audio LogsEdit
Chapter 13
Edit
Text LogsEdit
Chapter 14
Edit
Text LogsEdit
Audio LogsEdit
Chapter 16
Edit
Audio LogsEdit
Chapter 17
Edit
Text LogsEdit
Audio LogsEdit
Chapter 18
Edit
Text LogsEdit
Audio LogsEdit
Chapter 19
Edit
Text LogsEdit