Leaper
Description:

Legs fused together to form a tail-like appendage and a scorpion-like spike.
Snake-like sharp teeth, which are used to bite it's victim's head (or any other material) off.

Attack(s):

Leapers use their powerful tail appendages to whip and stab.
They have the ability to spring upon victims from surprising distances, especially in Zero G environments.

 
"And almost instantly, he is perched on his hands, shifting his weight from one palm to the other. He's pacing, circling the room and... he appears to be watching me! He sees me! No, he's fixated on the ceiling now... Oh God no, he's leaping at the vent! With his powerful tail-like appendage, he's striking at the reinforced covering, trying to get it open! I must warn the others!"
—Dr. G Abernathy observing a transformation of a Leaper
Leapers are Necromorphs appearing in almost all the Dead Space series, with the ability to leap long distances toward their prey. Sporting razor-sharp fangs, along with a long scythe-tipped tail made from the victim's intestines and legs, they are extremely deadly foes.
Leapers appear to be made from a single human corpse, with the host body's modifications serving to give the Necromorph vastly increased mobility. The musculature of the upper arm becomes more developed, and the fingers grow bladed claws for climbing and slashing with the hands becoming dislocated along with the thumbs moved to the back to create animal-like paws.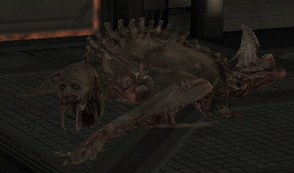 There is a slight lengthening of the vertebral ridges, and the flexibility of the spinal column is increased to help in locomotion. The legs are completely re-shaped: the muscle and bone is flayed, fused together, and lengthened into a single limb tipped with a sharp blade of considerable weight and durability. This tail is highly flexible, able to contract and coil into about a third of its original length. The Leaper uses its powerful tail to quickly launch the creature toward its victims or uses it to stab into its enemies in a similar fashion as a scorpion, as seen with Eckhard. The cranial and sinus areas of the skull appear to have been dis-articulated from the neck, and the jaws have become heavily mutated. The upper sets of teeth are completely gone, along with most of the palate reaching back into the throat. In their place is a pair of multi-jointed appendages that bear sharp, bony fangs. The lower jaw is split into two curved mandibles ending in knife-like fangs.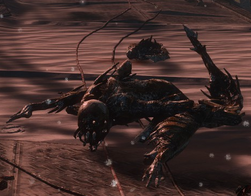 In Dead Space 3, however, the fangs of the mummified Leapers appear to have once been fingers and several other arms and at least 2 rib cages can be also seen, most likely meaning that the mummified Leapers were made with more than one corpse. Also the Leapers still possess the clothes of their original hosts, which colors varies depending on where they are encountered.
Leapers have frequently been encountered in both known major Necromorph outbreaks. They are able to handle Zero-G environments, using their leaping ability to great effect, and are often found in such environments. They are about as durable as a Slasher; however, they can at times require more ammo to take down due to their smaller size, "jinking" movements, and quick closing speed. If not quickly handled, they can rapidly become a serious threat due to their quick strikes and fast attacks.
In Zero-G areas, Leapers are typically found alone or are accompanied by Lurkers. On other very rare occasions, they will group together with Slashers, such as in the tram pathway of the Ishimura in the first chapter of the first game.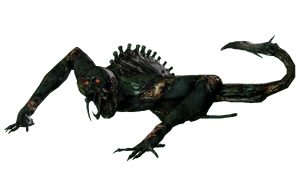 Leapers appear to scout their possible victims by quickly flashing through open vents and rattlings in an attempt to scare its target and suddenly jump out of nowhere with its high speed and agility.
Leapers also have an Enhanced form that are encountered later in the games. Enhanced Leapers are darker in color and possess glowing eyes. They are much tougher than normal Leapers, sometimes taking 2-3 shots from the Plasma Cutter (depending on which difficulty you chose) just to sever a limb. They are also capable of doing more damage than a normal Leaper.
Death Scenes
Edit
Concept Art
Edit
Appearances
Edit