Flashlight
Talk

2
1,355pages on
this wiki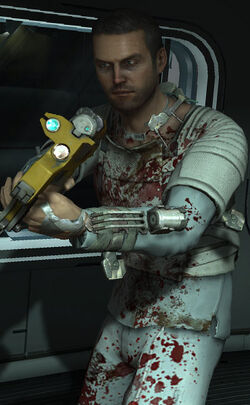 A flashlight is a portable, battery-operated device used for illumination. A typical unit consists of one or more dry cell batteries arranged in a line inside a battery compartment that forms the handle of the light. The flow of electricity from the batteries to the bulb at the front end of the light is controlled through a switch mechanism placed between the batteries and the lamp.
Description
Edit
The flashlight is a common attachment found on tools and weapons, used to enhance the wielder's vision and accuracy. In Dead Space 2, Isaac is provided a flashlight by Foster Edgars to assist him in maneuvering around the Sprawl. While lacking any direct offensive capabilities, the flashlight can be swung around violently to break the limbs of Necromorphs and smash objects. Other than that, the flashlight provides lighting for Isaac in dark areas of the Sprawl hospital and has a single laser pointer that helps Isaac aim while using Kinesis. Later on, Isaac jury-rigs the flashlight with a surgical tissue laser to form a makeshift Plasma Cutter.
The flashlight is the first tool in Dead Space 2. Isaac Clarke finds it in a locker alongside a Small Med Pack in Chapter 1.
Technically, Isaac never gets rid of the flashlight. In Chapter 1, he simply attaches a medical tissue cutter to the flashlight for a makeshift Plasma Cutter.
The flashlight gains one targeting laser after Kinesis is obtained which enables Isaac to aim and fire dismembered blades.
A welder sharing the Flashlight's appearance is present in Dead Space 3. When the USM Eudora is hit by mines in Chapter 2, Isaac hands Norton the welder although it seems to be a welding tool instead of just a flashlight.

It is possible that the Flashlight used by Isaac in Dead Space 2 is a welder, and Isaac was simply unaware of its welding capabilities or chose not to use that function.