Brute
Description:

Reminiscent of an animal rather than a human, they are the largest of the standard Necromorphs.
Brutes' movements resemble those of gorillas, as they both rely on their massive fists for locomotion.

Attack(s):

Brutes will attempt to charge and pummel prey with their large, muscular arms and hardened foreheads.
They are also able to produce ranged attacks consisting of explosive organic bombs, provided that an arm or leg has been dismembered.

Notable member(s):
 
"I saw something out there. I don't know what... I only got a glimpse, but it was big. Really big..."
The Brute is a large Necromorph composed of multiple human corpses. It has heavy organic armour in its front and possesses extreme physical strength, making it a deadly foe in combat.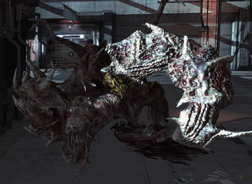 The Brute is almost entirely encased in an armored, spiked exoskeleton made from bone and calcified skin. Its posterior is relatively unarmored, and from it sprouts a pair of vestigial arms used for support if one of its main arms is cut off.
Despite its heavy armor, the Brute is also quick for its size. The Brute attacks up close with a devastating punch and a headbutt that can easily knock Isaac off his feet. There are, however, specific weak spots just before the shoulder joints, and towards the back along both rear legs. They are easily identified by their comparatively bright yellow coloration. When attacked on the weak spots the Brute will contract within its armored plates to protect itself. This can be used as an advantage, for the back of the creature is still exposed and ripe for being blasted, and when combined with Stasis, serious damage can be done before the creature recovers. If one or both of the legs are severed, the Brute will be rendered completely immobile, but will actually resort to lobbing organic bombs from an otherwise rarely exposed hole in its belly.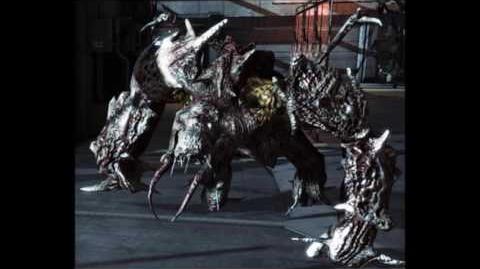 Like many necromorphs, the Brute has an Enhanced form. It appears black, and is much stronger, requiring more ammunition to take down.
It is believed that the first Brute was created by the Earth government using three human corpses and the genetic code of Necromorphs. Craig Markoff named the creature Krax, after one of the corpses used to make it, and used it to kill Michael Altman.
"Normal" Brute
Edit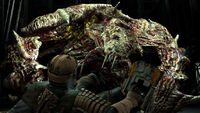 Normal variants of the Brutes are the most common ones to be encountered in the Dead Space games. They also get a slight appareance change in Dead Space 2, with their textures changed to be a bit darker and parts like the head being more symmetrical.
Enhanced Brute
Edit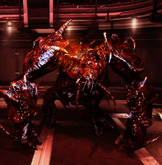 Enhanced Brutes, like every other enhanced Necromorph variant, are dark and black in their appareance with glowing red-yellowish eyes. They are much more stronger than their normal counter parts and also can take more damage. Isaac encounters only 2 of them between Dead Space and Dead Space 2.
"Your weapons can't punch through that thing's armor! Shoot it in the back, Isaac!"
Brutes serve as mini-bosses in Dead Space; they are resistant to damage and can kill careless players with ease. Brutes are often fought alone, so all attention should be paid on the creature and not the player's surroundings, unless looking for ammo and health.
Death Scene
Edit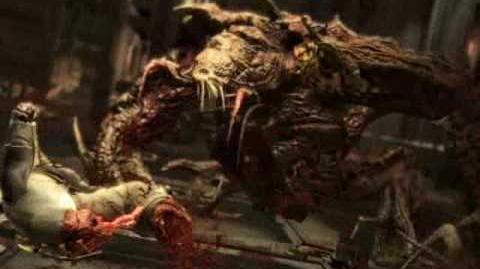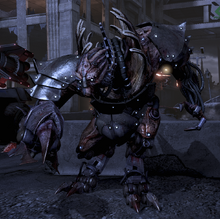 Appearances
Edit